Throwing a birthday party for your child has just become "a piece of cake!"  Artissima painting parties are a blast, and the birthday guests go away with a unique and fun piece of artwork to remember the special day.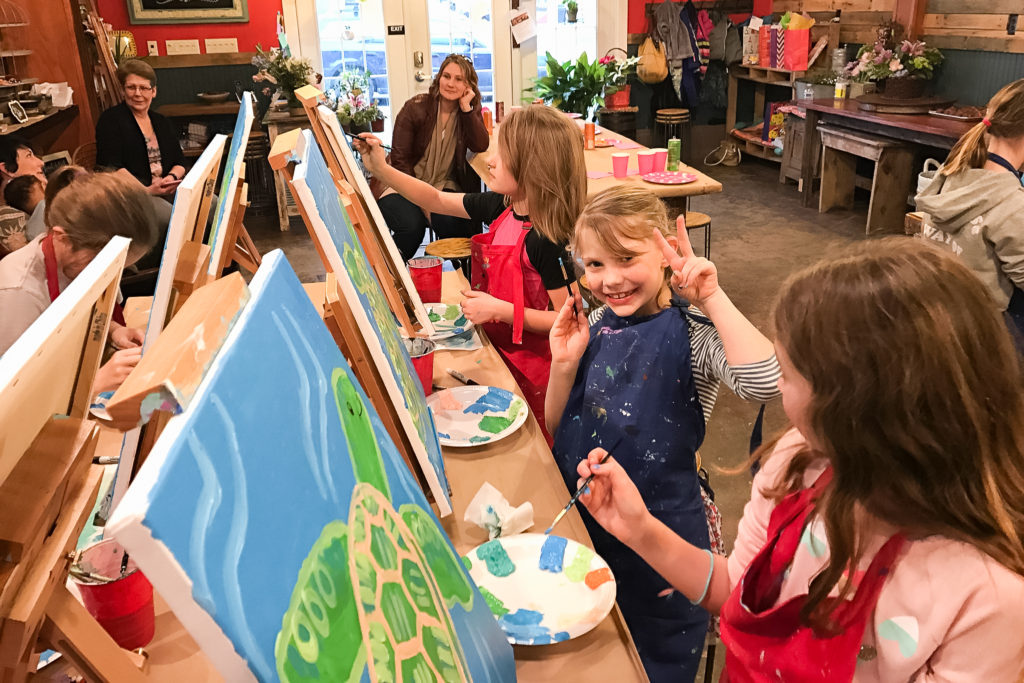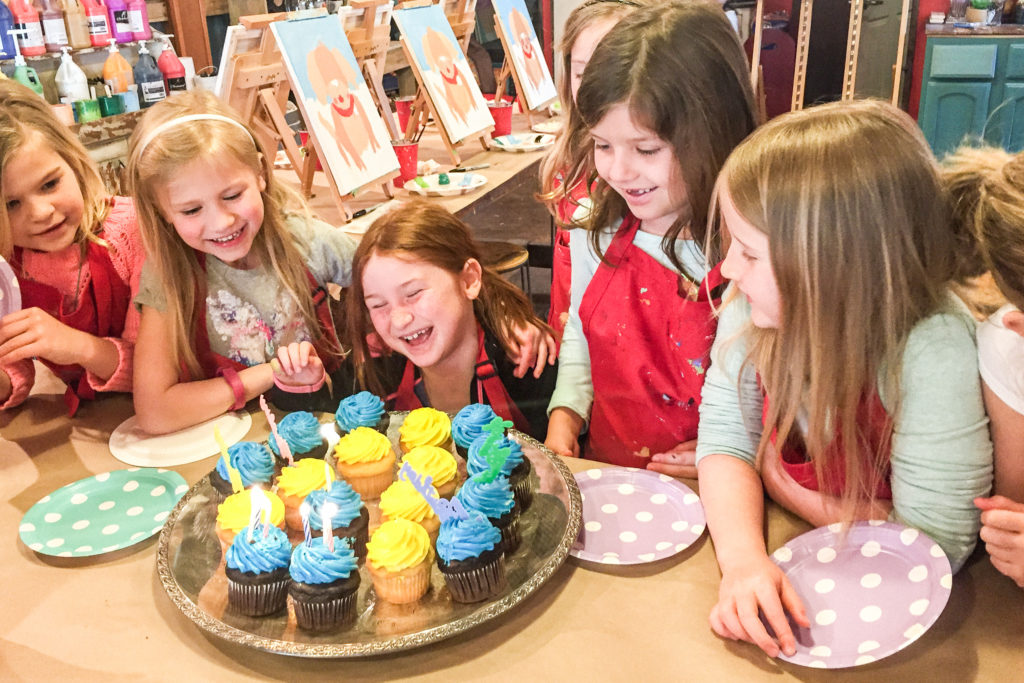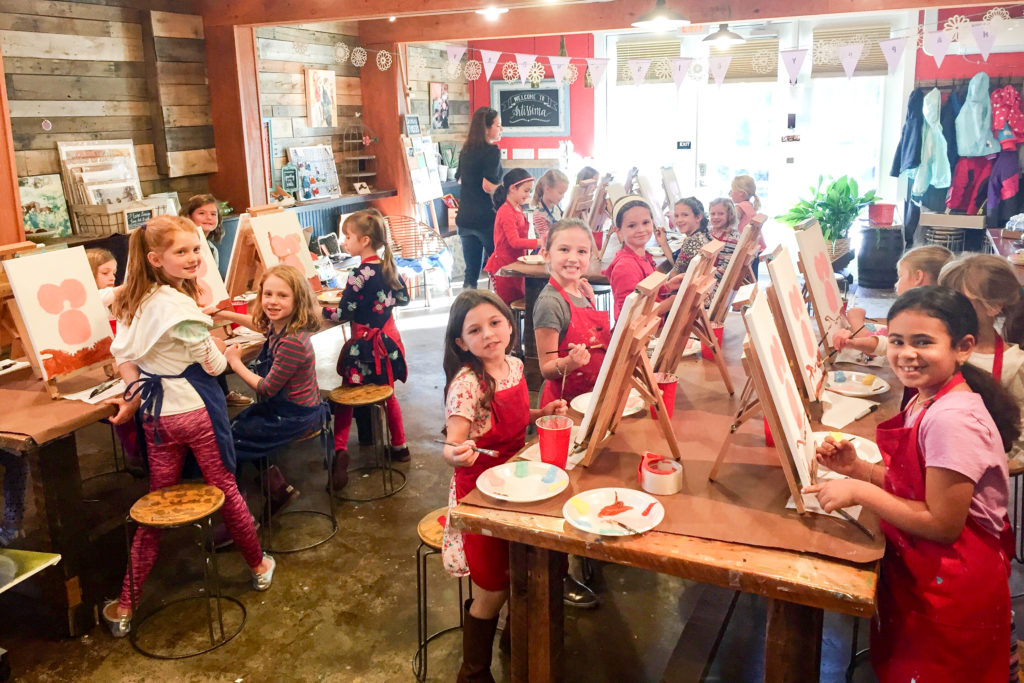 Details
How Long is the Party? Our parties are 2 hours for kids, ages 4+. For younger kids, please contact us for party options. 2.5 hour parties are available for teens if the artwork requires the extra time.
Artwork: Your child can choose his or her favorite artwork from Artissima's extensive portfolio OR the artwork can be completely customized to the interests of your child. A PDF of artwork options will be emailed to you once we schedule a party date.
Artissima provides: A fun art instructor, all of the art materials, aprons, and the friendly "barn" atmosphere await your arrival.
Food & Drink: You may bring whatever food and drink you desire or allow us to simplify your life by ordering from the list of add ons below.
You Supply: You supply your choice snack and/or treat, drinks, napkins, utensils, plates, & candles. Our recommendation is to bring items like cupcakes and pizza because they cut down on serving time, utensils, and mess! (unless they smash the cupcake in their face :))
Party Size: Maximum 18 children. For larger parties, we suggest that you encourage parents to drop off.
Available Days/Times: Parties generally take place on Friday Evenings, Saturdays (11am-1:00pm, 2:30-4:30pm, 6:00-8:00pm), and on Sunday afternoons from 2:00-4:00pm. Parties normally last two hours with at least 20 minutes set aside for snacks & refreshments. Presents are not opened at the party so we have more time for art!
Add Ons
Delicious pizza from The Upper Crust Pizza. This option is NOT available for parties on Sundays as The Upper Crust is closed.
Artissima's birthday parties are a huge hit with parents and children. We are so happy that you entrust us to celebrate this special day with your family. Weekend dates fill up fast, so please call or email us now to request more details and pricing.
A party during Covid-19: 
We are so pleased to be able to provide fun & safe birthday parties at Artissima Studio. We are operating at a limited capacity and in compliance with the CDC guidelines. We ask for your utmost cooperation, and we are sure that it will be a fun and creative celebration. 
There is a max of 12 guests (there is no flexibility with this number), and we can accommodate 2 parents/caregivers in the space during the party.

The birthday party is 1.5 hours, and we have eliminated food consumption during the party. Treats may be passed out to the guests as they depart from the party.
The parent/guardian hosting the party is responsible to deliver our Covid -19 procedure to all of the attending guests. All parents/guardians of the guests must sign Artissima's Covid-19 waiver and bring it to the party.
COVID-19 Procedure at Artissima:
Max Capacity:

12 total participants. Only 2 parents/guardians of the birthday child may stay. Other parents may not stay unless they are counted as a part of the 12 people in the space.

Drop Off:

Parents should not enter the studio–only the party guests can enter the studio one at a time for drop off. Please wait in a socially distanced line to enter the studio. Thank you!

Pick Up:

One student can exit at a time for pick up. Parents/guardians need to form a socially distanced line in order to enter the studio and pick up their child. The parent should not enter the studio—please stand in front of the door, and the student will come out to meet you. 

Food/Drink:

There is unfortunately no consumption of food in the studio. The guests may bring a personal water bottle, or you may provide individual water bottles for the kids. Cupcakes or other treats can be handed out as guests depart, but they may not be consumed inside of Artissima.

Face Masks:

Students and parents/guardians must wear a face mask at all times on the premises of the studio and within the studio. 

Hand Sanitizers:

When entering and exiting the studio, use the hand sanitizer at the studio.

Socially Distanced: Students will be seated in a configuration that is socially distanced. The student will remain at his or her seat unless he or she needs to use the bathroom or sink, one at a time.
Using the Bathroom & Sink: Only one student at a time washes his or her hands or goes to the bathroom. There will be no "lines" to use the sink or the bathroom. Students will be called one by one.
Personal Items: Do not bring any personal items (including jackets or coats) unless there is a medical necessity. A parent/guardian may take the jacket or coat at the door if it is cold outside. Any personal items cleared to stay in the studio must be kept in a plastic bag.
Aprons: Bring aprons or wear clothing appropriate for a mess. Artissima Studio will not be providing aprons.
Take your Temperature: Parent/Guardian will take the child's temperature at home before entering the premises to ensure that it is below 100.4 F. If you arrive at the party, it is an acknowledgement that you have taken your temperature and are cleared to come to class.
We will do our best to protect all students, and we feel confident that the students will have an enjoyable, didactic and creative experience even with the extra measures put in place to guarantee the safety of everyone.
Artissima and our instructors will…
Accommodate only a limited number of students in each class to ensure proper social distancing.

Wash/Sanitize our hands before and after each session.

Wear our masks at all times.

Take his or her temperature before coming to class to ensure that it is below 100.4F.

Instructors will cancel the class if they have any symptoms related to Covid-19. The instructors will be socially distanced as much as possible.

Clean/Disinfect frequently touched surfaces and the bathroom before and after class. Clean/Disinfect the bathroom during the class as necessary.

Provide sanitizers at the entrance and automatic soap dispensers and automatic paper towels for the students to use to avoid contamination.
Sign Up for Our Newsletter
Sign up to receive information on our latest
news, events, and discounts.